With rolling hills, mountain backdrops, rustling creeks and farm field valleys, Berks County's diverse landscape provides for beautiful outdoor settings all over. Let's take a look at ten establishments which have taken advantage of these beautiful views.

10. Captains Cove at Mountain Springs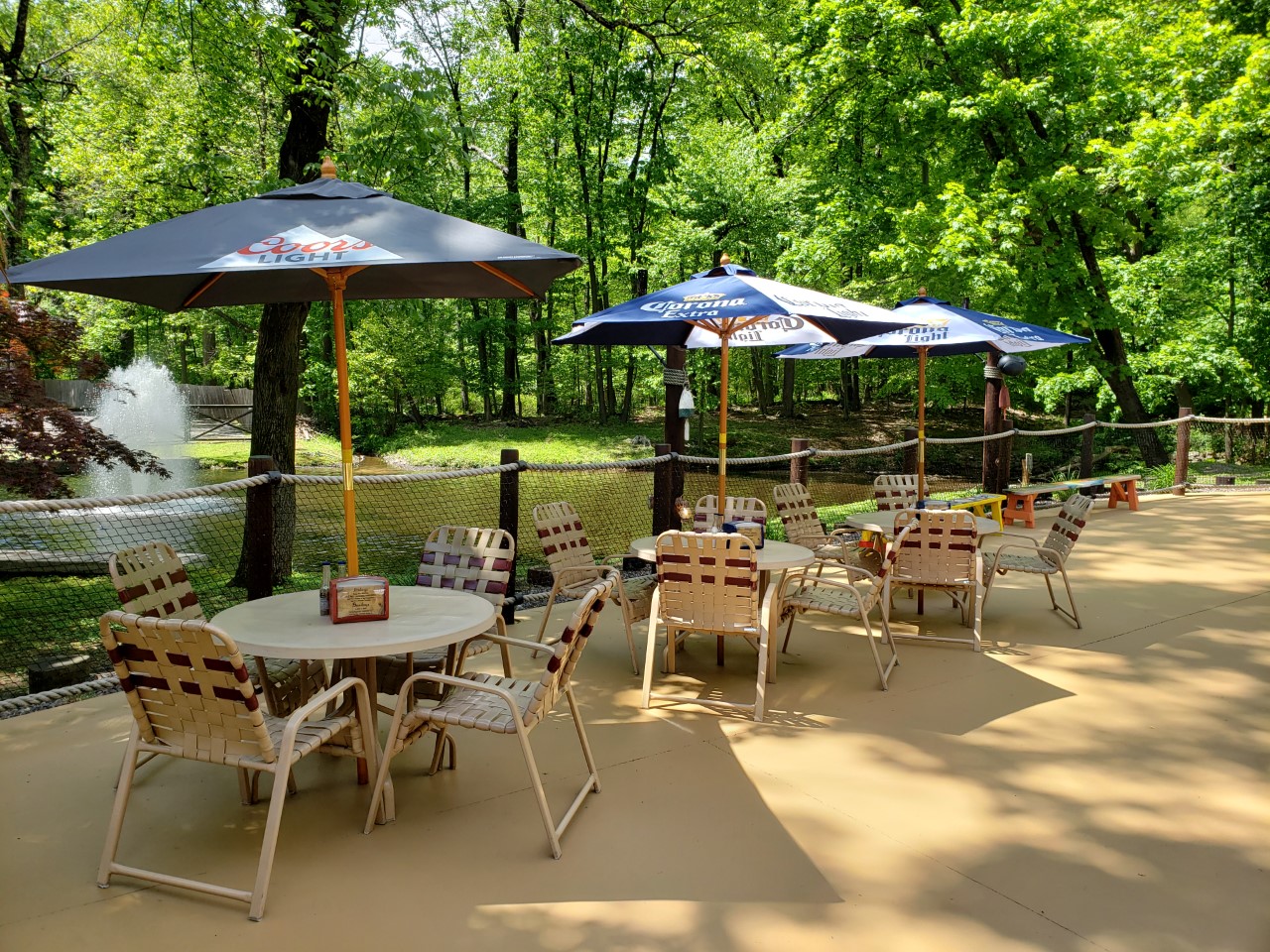 In the middle of the Mount Penn Plateau and deep in the woods lies the large, spacious cabana deck of Mountain Springs Restaurant and Bar. Whether you're under the large pavilion or sitting at one of dozens of tables surrounding it, you'll see trees, water and hills at every angle.

9. Island Pizza

Located at the edge of the Oley Valley and at the foot of Monocacy Hill which juts up in the backround, Island Pizza's relaxing cabana area features a large square bar and tables overlooking pasture and woods toward Daniel Boone Homestead.

8. Knights Pub at Stokesay Castle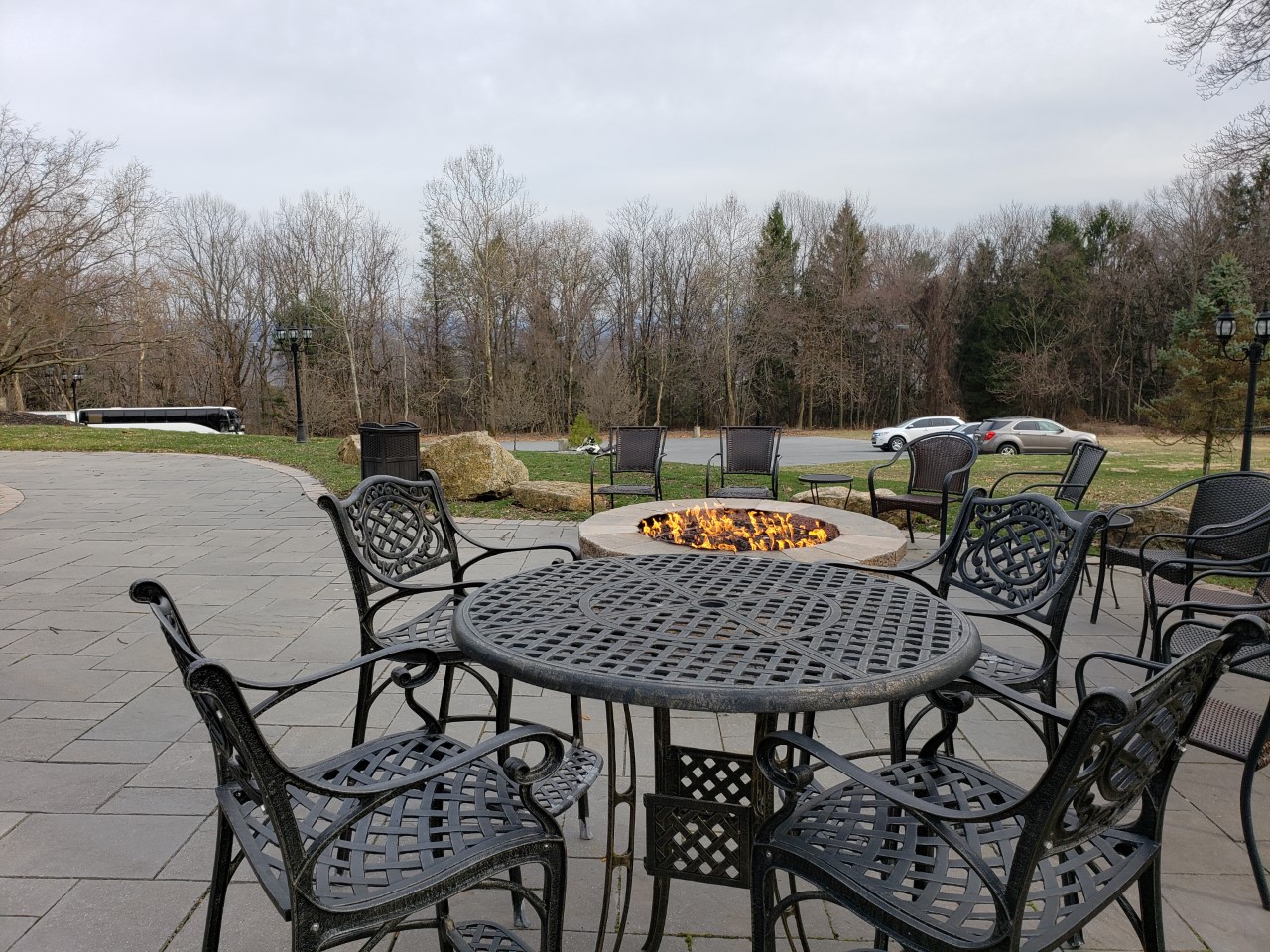 Sitting high up on the hill in the woods of Mount Penn, diners at this historic castle will enjoy views overlooking the valley below while sitting flame side by the fire pit at The Knights Pub.
7. Hidden River Brewing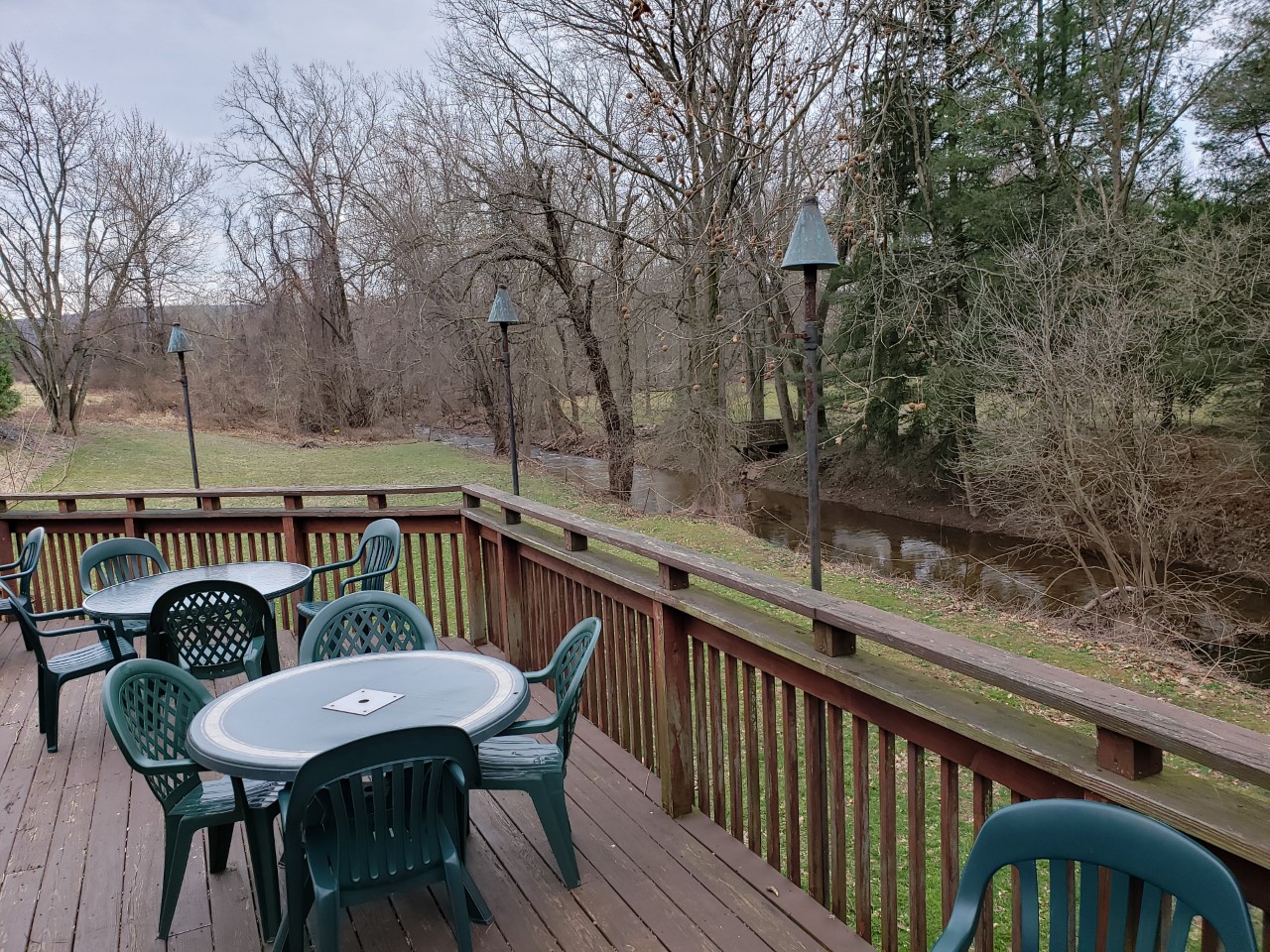 Once an old farmhouse, homestead, historic mansion, Prohibition-era gentleman's club for the rich and famous, and even rumored to be haunted, the 300-year old Brinton Lodge in Douglassville is now home to Hidden River Brewing. The large, rustic outdoor patio, which has views of the rolling hillsides of the French Creek Valley and former Schuylkill River Canal which flows below, is the perfect place to savor the brewery's rotating farm-to-table menu and variety of unique, creative and unusual, but delicious beers.
6. Union Jacks on the Manatawny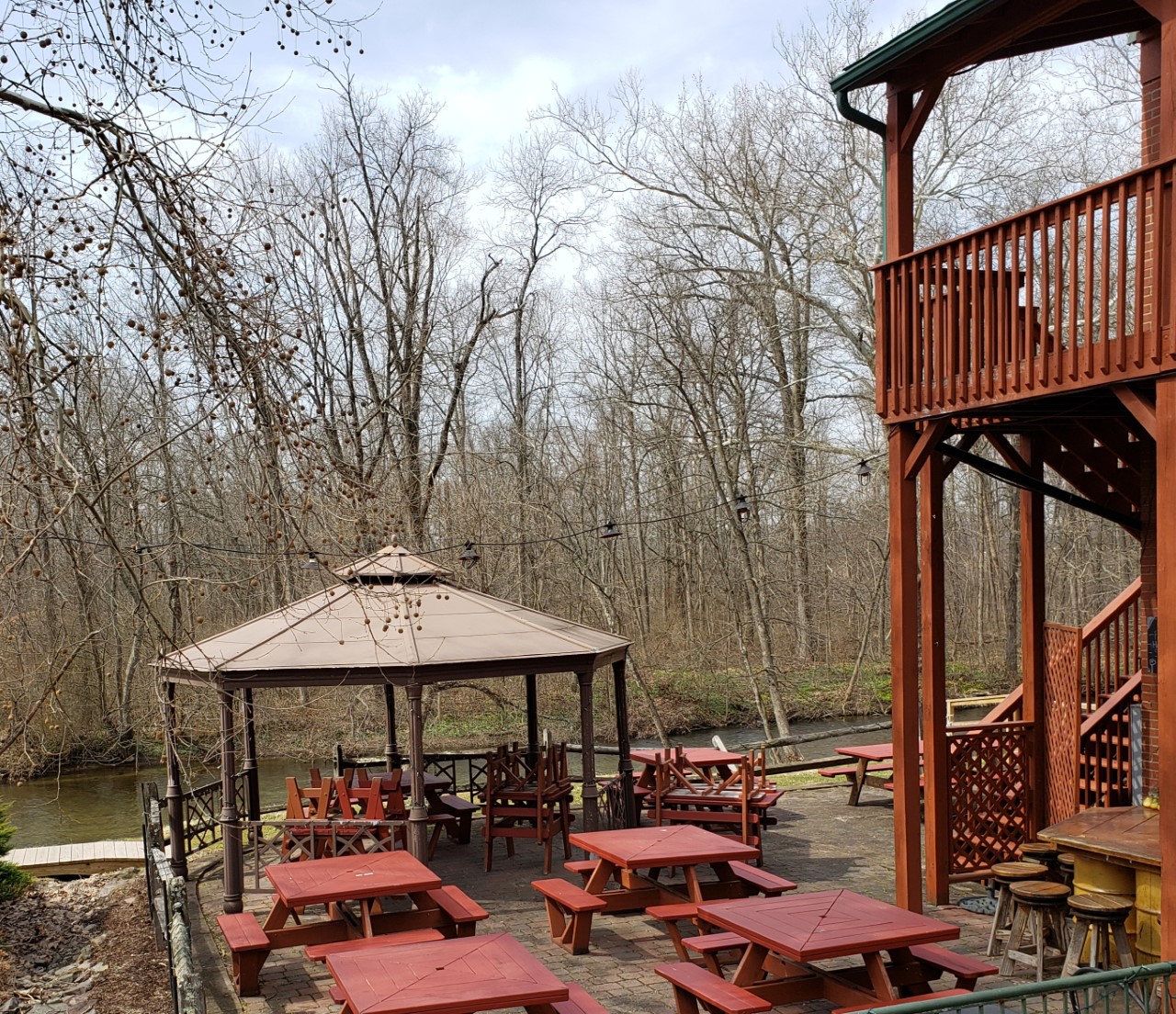 Oley Valley is known for its vast pastures and expansive farmland. But at the foot of Pinnacle Hill lies a rustic creekside restaurant which has a beautiful, quaint terraced outdoor patio and bar. Far away from the sound of heavy traffic, Union Jacks on Manatawny Creek is known for monster burgers and sandwiches, pub grub and a wide variety of brews.
5. Moselem Springs Golf Club Bistro
Tucked away among rolling hills and country meadows, golfers, diners and brunchers alike will appreciate this beautiful patio setting far away from the sound of trucks and cars. Overlooking fairways, lakes, streams and hills, several outdoor tables, a large awning and a gazebo at Moselem Springs offer a perfect setting for lunch, dinner or drinks on a spring, summer or fall day.
4. The Tiki Bar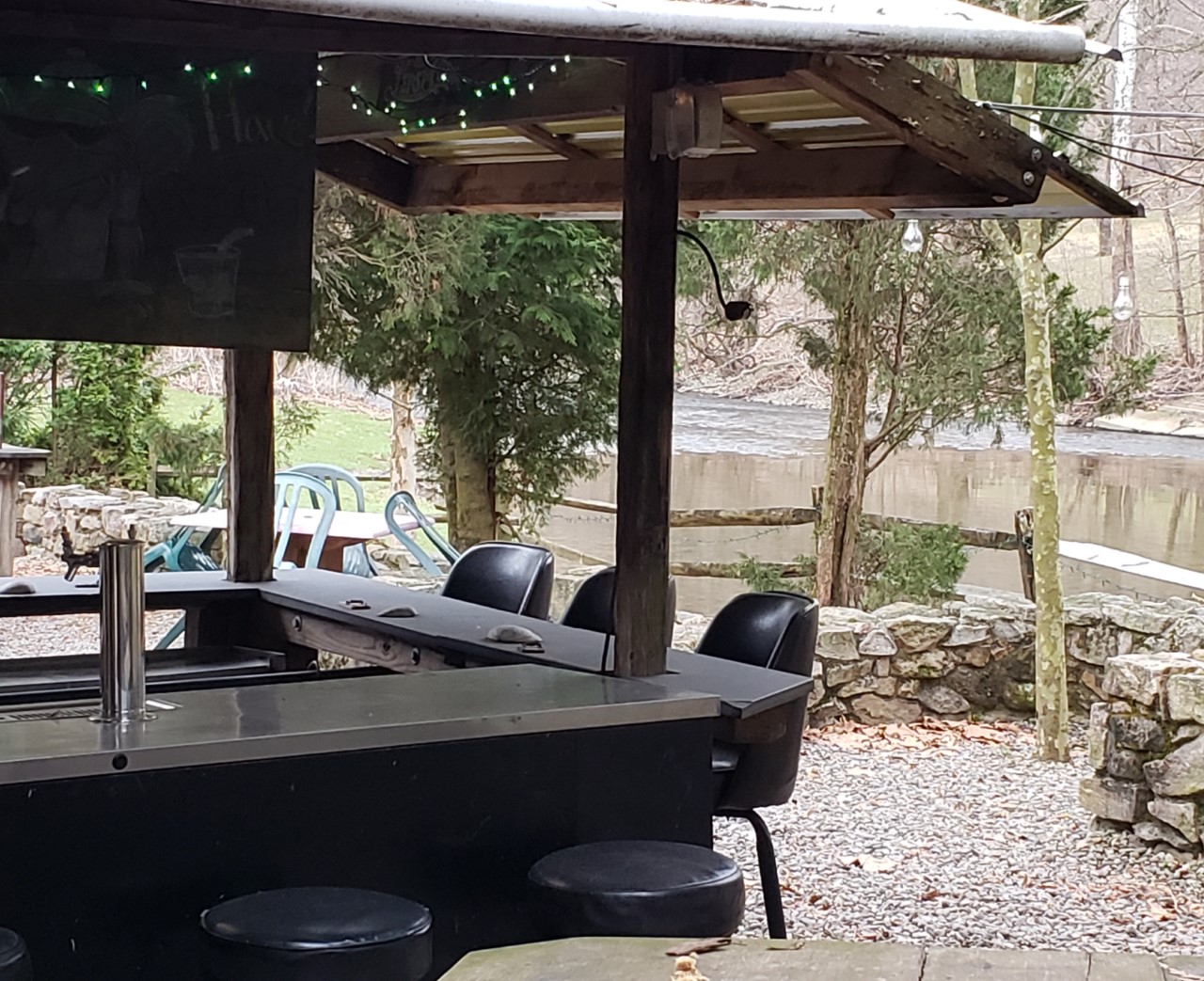 Known for its several outdoor grills where you have fun cooking your own steaks, chops and seafood, you can do more than just feed yourself at the Tiki Bar. You can also feed the ducks that are floating down Manatawny Creek, which will be so close to your table you'll be able to land a piece of bread just about anywhere in the water for them as they float on by.
3. Bear Creek Mountain Resort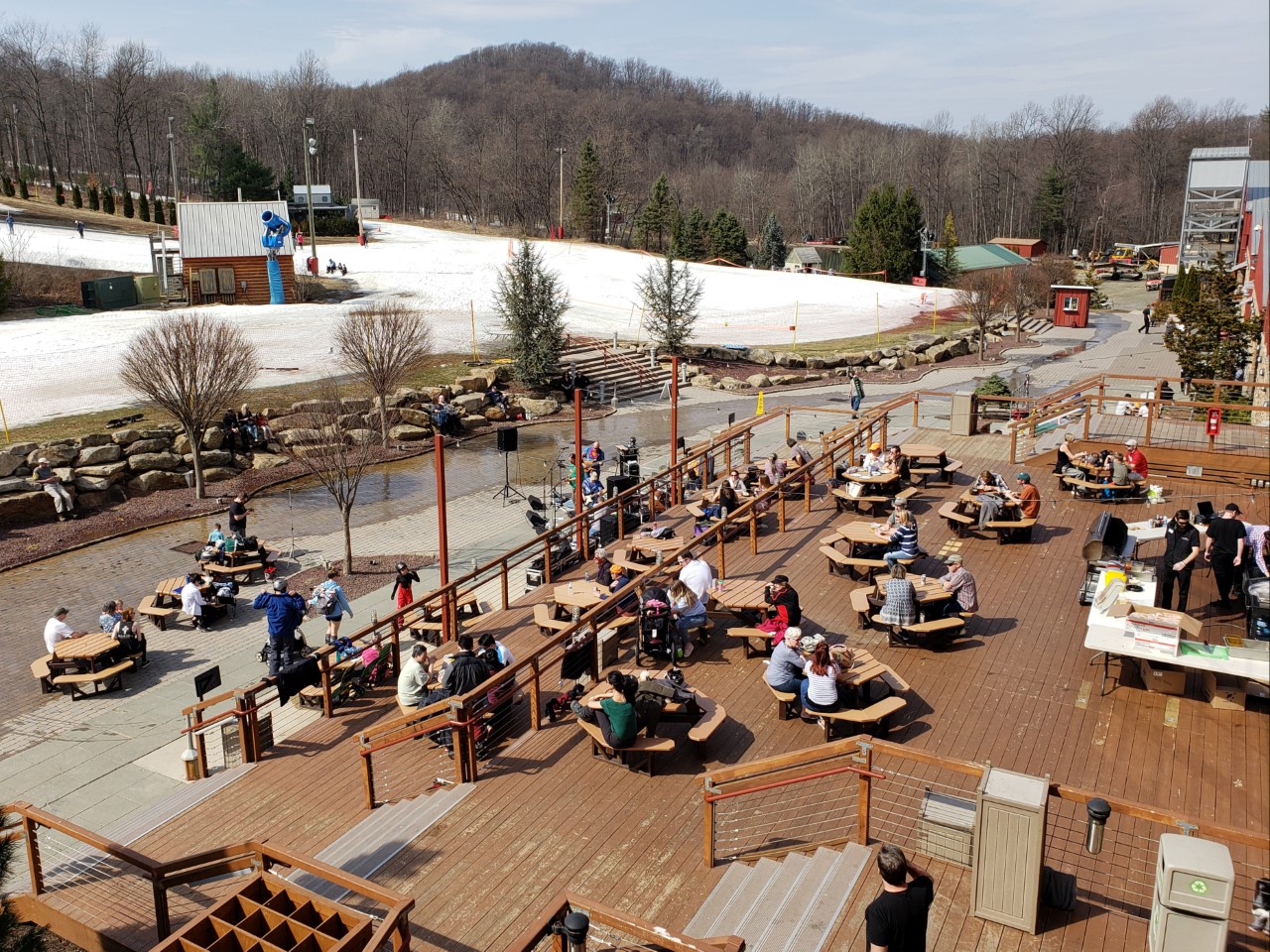 If you think Bear Creek Mountain Resort is just about skiing, think again! At the base of Bear Creek Mountain sits the modern hotel and resort which sports a beautiful large deck overlooking the ski slopes, and it's open year-round! Weddings, wine and food festivals, bands, and events make this deck one of the hidden gems of Berks County.

2. Coors Light Deck at First Energy Stadium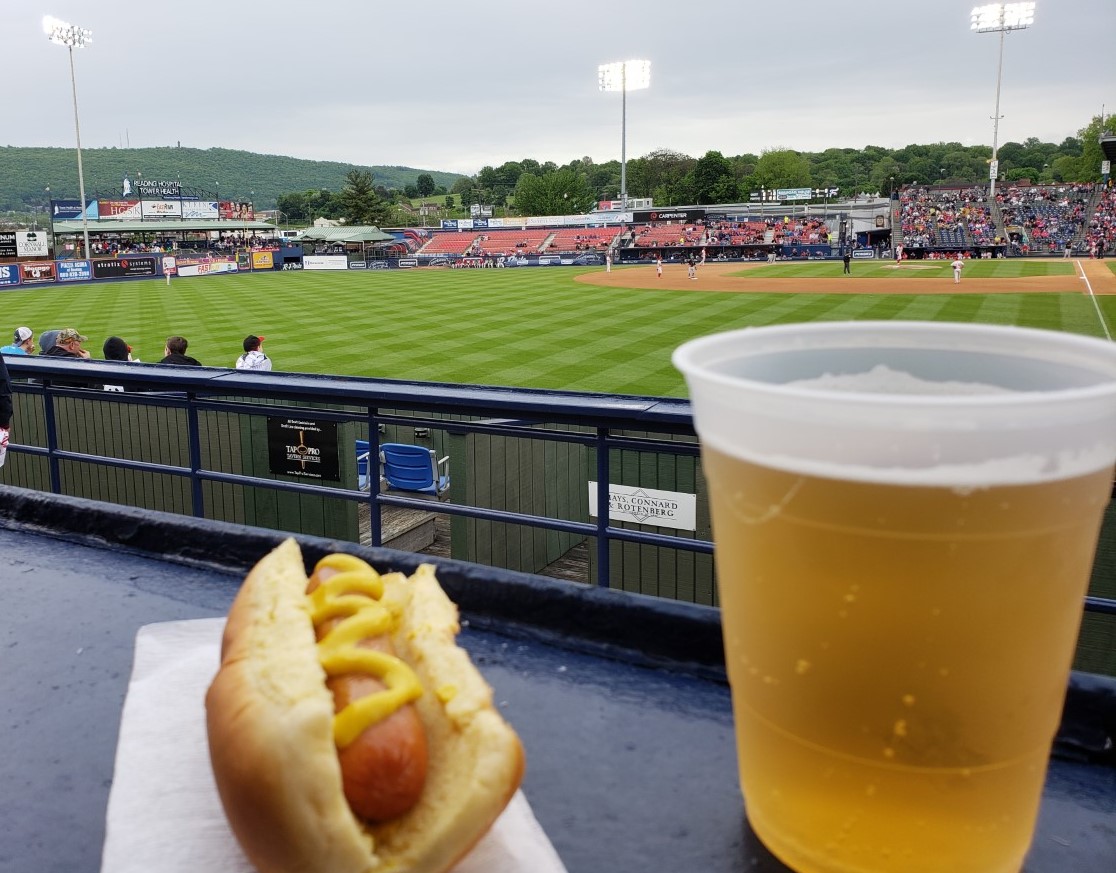 From family affordability, a swimming pool, multiple picnic areas with all-you-can-eat buffets, countless promotions, a plethora of activities and ample fireworks displays throughout the season, the Reading Phillies have (arguably) the best minor league stadium in the entire country. The multi-tiered left field deck affords views of not only the entire stadium, but also Mount Penn in the distance, making this the perfect place to enjoy a $2.50 hot dog, or for that price, maybe two or three.
1. Cigars International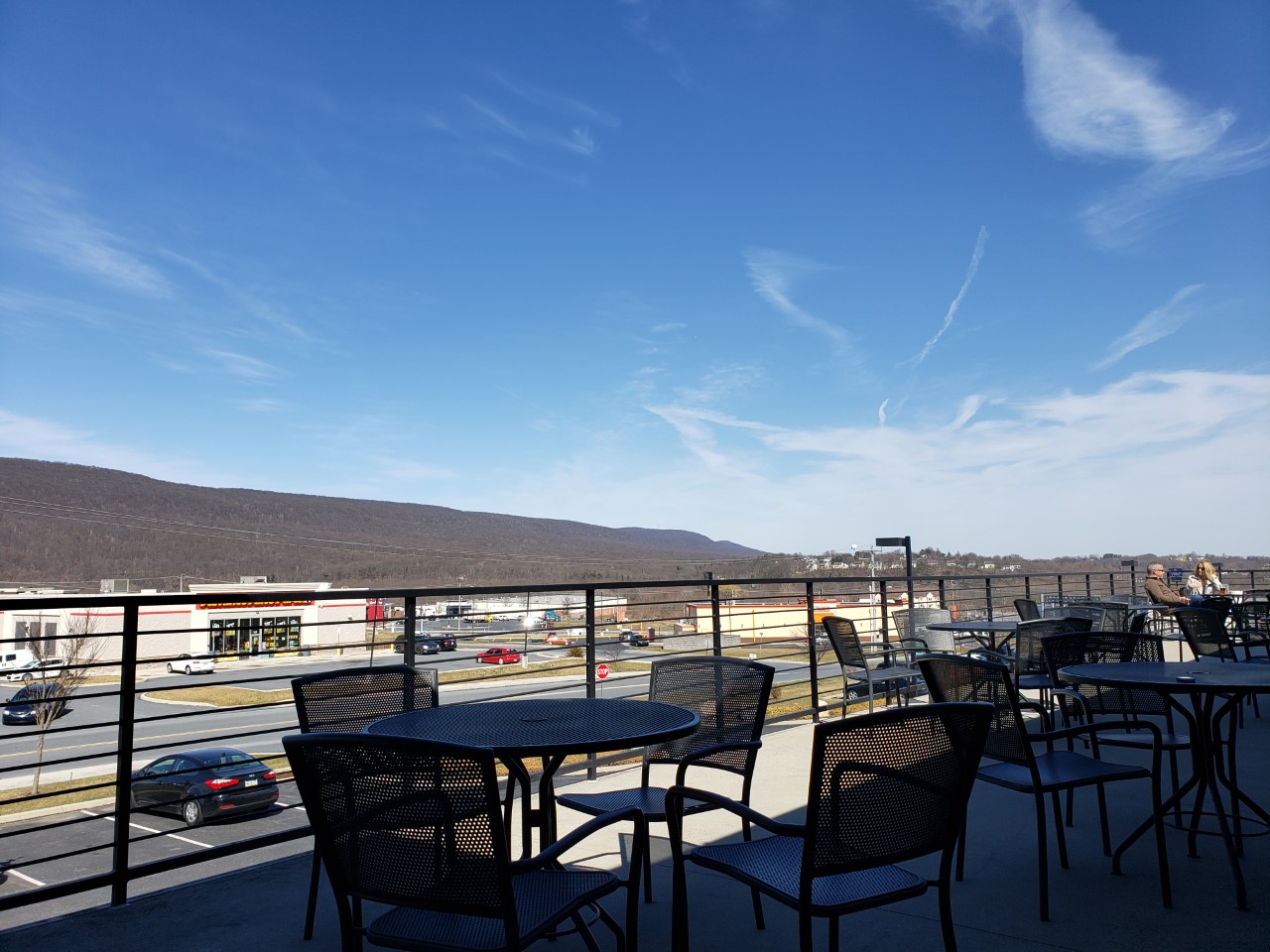 On the second floor of the largest cigar store in the United States, double doors at Cigars International lead out to a wrap-around deck with expansive views of Blue Mountain and the town of Hamburg. Looking East toward Allentown, the massive mountain provides a naturalistic backdrop for onlookers enjoying a taste of beef jerky from the store, appetizers from its food menu, a Yuengling beer from the brewery just miles up the road, or of course, a cigar.
Mark Crystal. Realtor. Southeast PA.